We're in the home stretch, readers! I can safely say that we are at least over the half-way point. I sincerely hope that we're well beyond the half-way point, but I've learned not to be optimistic when it comes to Simon's timelines. Simon, if you're reading this, take no offense. As previously explained, we get it. You've got loads more on your plate than just our bathroom reno. You're also not great at estimating things like timing or cost. I recall that last week Simon said he would be in over the weekend and would get the whole bathroom done. Today is Monday, readers, the day after the weekend. I can assure you, my bathroom is still a construction zone. But we're getting there.
The theme of this week's update is definitely "tiling continues". I think it's no secret that tiling is not Simon's favourite thing to do, so I'll tell you flat out. Tiling is Simon's LEAST favourite thing to do, and this week's progress was slow but steady as a result.
At the end of last week's update, two of the walls were tiled to the top of the cement board with the subway tile pattern, except for the inside corners which required tiles to be cut. Simon hammered out the third wall to the same point in one afternoon early last week. There was one day during the week where Simon didn't make it over to our place, so this is as far as we got by Wednesday morning this week:
I left for work on Wednesday and went straight to a work conference out of town, and I didn't come back until Thursday evening. I was pleasantly surprised with the progress over those two days:
You see that? That's my shower ceiling covered in TILE!
I really like it. I'm very happy with the choice to tile the ceiling in the same pattern. This did of course mean my earlier calculations for the number of tiles to purchase were now wrong. I did a quick tile run to Lowe's on Friday afternoon for another 20 tiles. That lasted through Saturday, until Simon realized the shower shelf needed to be tiled in, and that wasn't part of his original calculation of how many extra tiles he told me to get. He ended up running out on Sunday and getting another third of a box of tile to finish everything.
Before we get too far, let's zoom in and take a closer look at the shower shelf accent tile. You can see a peak of it in the picture above.
Oh baby! She is gorgeous! Also, let me tell you how much Simon hates cutting teeny tiny 1″ hex tiles to fit in stupid shower shelf corners. It's a lot. He hates it a lot.
Friday was all about the shower shelf accent, and Saturday and Sunday were all about finishing the corners and the edges in the shower. Simon recommended a white plastic edging product to cover the edge of tile where it meets the painted wall.
You will also notice, right next to the nice neat edge of the tile, that there were some spackle touch-ups to my freshly painted wall. Sigh. I'll touch up with some primer and paint some time this week, once we're sure Simon is done knocking in to walls and fiddling with things until they're "just right".
The shower shelf took the longest to finish, but here she is, finally boxed in by subway tile:
After a few deep discussions on the matter, Simon and I decided on have the horizontal tiles on the bottoms of the shelves go right to the edge, for a "fall over" effect for future water run-off. The grout line for the sides of the shelf are on the inside, so it carries the pattern right up to the edge.
The last of the tiling on the shower surround was finished today, so grouting all this comes next. We chose a light grey for the subway tile grout and for the flooring grout, called Alabaster. On Simon's advice, we chose an unsanded grout because it has a smoother finish and makes cleaning easier.
On Saturday night, another real progress level was achieved. Prepare yourself, readers. The floor installation has begun!
The cement board underflooring was screwed in place on Saturday night:
Sunday was a good day. The first few sheets of floor tile went in place:
Followed by some toilet checks and measures, and a little more tile down today:
On a completely different note, we've been tackling the bathroom door issue this week too. As we get closer to having our bathroom finished and usable again, we're going to need some privacy.
You may recall that the old bathroom door was taken off its hinges and chucked into our basement weeks ago, when the tub was first set into place. Since then, we ruled out a pocket door (too risky and expensive on the load-bearing wall), and decided on a sliding barn style door. I've been agonizing over which style of door and hardware to choose ever since. This week, I went to Lowe's after work and just bought something. There were several hours of internet research going into this "just bought something" statement, but I got tired of waffling back and forth.
We decided on a modern looking three panel solid white door, and the more minimalist barn door track hardware, both from Lowe's.
Sliding barn door hardware – Regularly $149, but on sale for $119
6.7 ft x 3 in, dark brown finish

Here's how it will look when it's attached to a door:
3-Panel Slab Door – Regularly $139, on sale for $111.20
32″ x 80″


And here's the dynamic duo lined up in my hallway, waiting for their turn to play:
And if you think I spent a lot of time humming and hawing about which door to choose, I can tell you I spent even more time thinking about which hardware to chose for the handles and locking mechanism. Handles seemed fairly straight forward. I wanted something simple with a clean line, without being to "barn-y" looking and over the top. For the inside handle, I wanted a flush pull style handle, exactly like you would use on a pocket door, but I was particular about the style of the handle.
After an exhausting search that kept leading me back to companies with $110 USD flat shipping rates to Canada (yup, not a typo), I found this awesome Etsy store. In Canada. With exactly what I was looking for.
Meet Simon from Spearhead Collection. He sells flush pulls in a variety of styles and finishes. I found exactly what I had in mind, and for a reasonable price. One of these goes for $12.95 Cdn.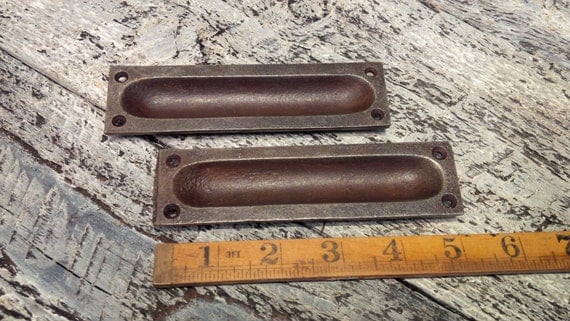 And he sells handles, also in many styles and finishes. I chose a 10″ handle with rounded ends for $15.83 Cdn.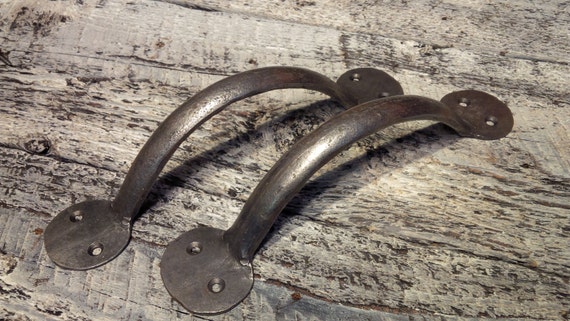 Perfect. Including shipping from Alberta, the handles cost me $52. I'll take it.
Way back in this post, I told you about the only kind of privacy lock that exists for sliding barn doors. I really wasn't kidding. There is literally nothing else that anyone sells, and like many things in life, they're extremely difficult to find in Canada without paying through the nose for shipping and duty. I was looking for teardrop privacy lock for a sliding door. This one, to be exact:
My search for a supplier lead me to Windsor Plywood, a franchise retailer of home interior finishing products, based on the west coast of Canada. Neat. They don't sell their products online, so I took a leap of faith and called the closest store to where I live, which happens to be in Thunder Bay, which is nowhere near where I live, crossing all my fingers and toes that they would ship a product to little ol' me.
The first person I spoke to was wonderful. He told me this was definitely a product they stock, and that they would be more than willing to ship it to me. The only problem was that someone beat me to the punch and bought out the last six teardrop privacy locks they had in stock that morning. Come on! Clearly I'm not the only one with sliding barn doors on the brain. He was great though, and told me that another store would likely carry the item and could ship it to me. His advice was to call another store and check with them. The next closest store to me was in Manitoba, which is also nowhere near where I live. It took a few tries to different Manitoba stores to find someone who cared enough to help me. A nice fellow at one store offered to call around for me and find one so I didn't have to keep calling stores. He got back to me later that same day to get my contact details for shipping. Today I received an email from him saying that the lock has been ordered from their warehouse and is on its way to their store, where it will be packed up and shipped to me in Ontario. Shout out to you, Tim at Windsor Plywood! You win the customer service prize of the day!
Let's end on a happy note for the week, with my completely tiled and ready to be grouted shower: