We're knee-deep into actually owning a house, and we're slowly wading through the legal mumbo jumbo and contracts, and administration fees for setting up accounts, and life insurance blood and urine tests, and so on and so forth.  But at the beginning of all of that, as soon as we were sure we actually had the house, I went shopping for a little touch of fun, in the shape of a personalized address stamp.
As an avid Etsy lurker, I had favourited and creeped on address stamp styles I liked years ago, but since I knew we weren't staying in our rental, there was no point in wasting the money on one for this cruddy address.  With a green light on the home inspection last month, I went back to Etsy to shop for real.
Dan had little-to-no interest in the stamp, so I chose 3 that I like and he made the decision from there.  Here were the contenders I narrowed it down to for Dan to choose from:

Chattypress

Foryoo

relishdesignstudio
And I toyed with the idea of this one for the two name version, but we wouldn't want the cutesy heart.  I never got as far as asking the seller if this could be replaced with an "&" or a "+" but I'm sure it would have been possible:


alifehandmade
We narrowed it down to the first stamp, from Chattypress, with the old-timey looking "and".  The stamp cost me $37.79 Canadian, including shipping.  And I love it.  It arrived last week, in its own adorable little drawstring bag, and I can't wait to use it.  It'll get its test run on our "we've moved" postcards, which will go out to our friends and family later in July.  I believe in getting and sending things in the mail, readers, and paper products are my jam.
Oh, and because I'm a super dork, I also order an address stamp for just me, since I send a fair bit of mail out into the world from just me: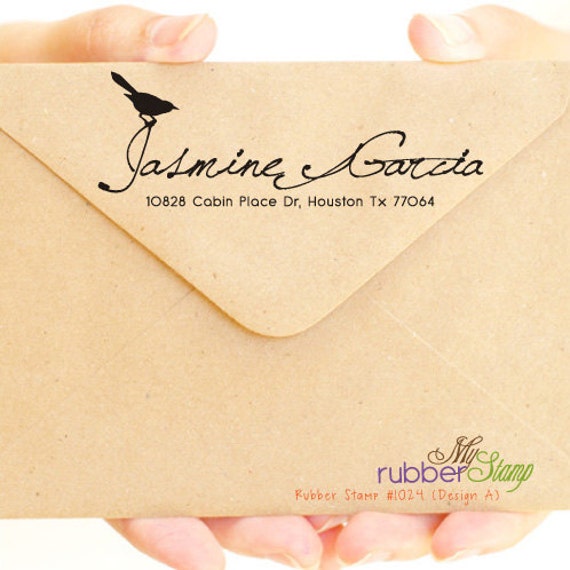 myrubberstamp
I chose not to include the little bird, but it has my name on it, and it shipped yesterday.
Our moving announcement postcards are next on my slightly more fun moving-related list of things to do.  I spent an equal amount of time shopping on Etsy and minted.com for a moving announcement I liked, and then opted to make my own in MS Paint.  That update will come a bit later, it's still a work in progress.